2.5L HYBRID
The ES 300h has two energy sources working seamlessly together to produce an impressive 151kW of power. The ES 300h's performance credentials include:
4.6
L/100KM1
Fuel Consumption
REFINED ELEGANCE
Confidence, refinement, elegance. Remarkable moments, beautiful places, captivating outfits and unique memories.
DISCOVER EXTERIOR
ES 350 Sports Luxury model shown
ES Sports Luxury model shown
CUSTOMISED EXPERIENCES
A vehicle that suits your lifestyle. Luxurious, with room to move. The perfect car for drivers and passengers, with both appreciating a feeling of refinement and space.
DISCOVER INTERIOR
ES 350 Sports Luxury model shown
INSPIRING PERFORMANCE
Unmatched comfort combined with superb handling, the Lexus ES has been made for driving. A range of engine choices, coupled with superb engineering, combines for an unforgettable experience.
DISCOVER PERFORMANCE
ES 350 Sports Luxury model shown
LEXUS ES SAFETY
ES 350 Sports Luxury model shown with Ivory trim
ANTICIPATE THE UNEXPECTED
A technologically advanced Pre-Collision Safety System (PCS)19 can take pre-emptive measures to help minimise the impact should a collision ahead be detected.
Prototype ES Sports Luxury model shown with Ivory trim
THE HIGHEST LEVELS OF SAFETY
Driver and front passenger airbags take into account the seat position and the force of impact to deploy in stages to optimise the protection of the vehicle's occupants.
ES 300h model shown in Sonic Quartz
IMPRESSIVE FIELD OF VISION
Enjoy extra confidence when you're reversing thanks to the ES's Reversing Camera3, which includes steering-linked guidance lines plus Clearance and Reversing Sonars8.
DISCOVER SAFETY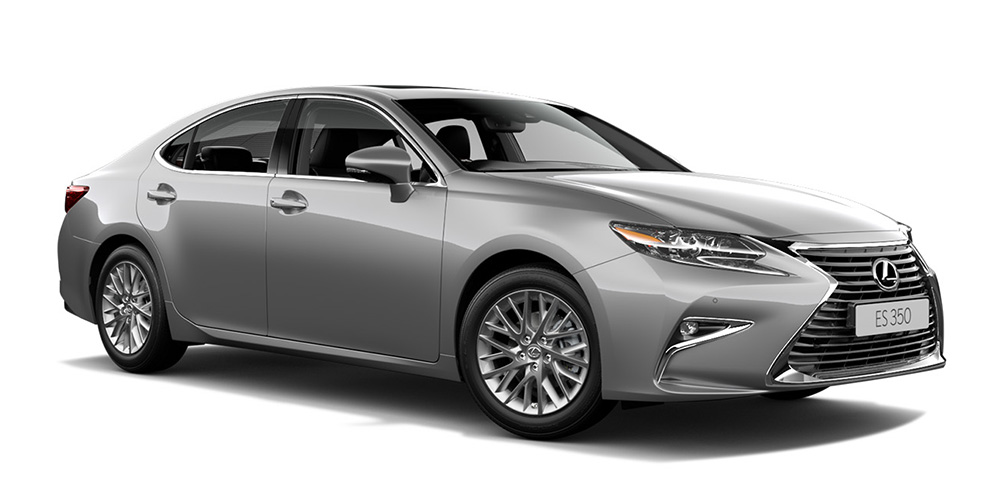 BUILD & PRICE YOUR NEW LEXUS ES
Heightened levels of space, smoothness and refinement are hallmarks of the ES line, and offer the driver a truly luxurious driving experience.
ES 350 Sports Luxury model shown in Premium Silver
Loading...
Sorry, we couldn't find a dealer for that location
You may be too far away from a dealer, or you have entered a place we can't find a location for. Try somewhere closer to your nearest capital city.
{{result.dealerName}}
{{result.serviceType}}
{{address.streetAddress}}
{{address.suburb}} {{address.state}}, {{address.postCode}}
Book a Test Drive
DEALER WEBSITE
ALL FEATURES MAY NOT BE AVAILABLE ON ALL MODELS

1) Fuel consumption will vary depending on driving conditions/style, vehicle conditions and options/accessories. Source of fuel consumption data: ADR 81/02 combined (L/100km).

2) Active Cruise Control (ACC) is a driver assist technology and should not be used as a substitute for safe driving practices. Driver should continue to monitor the road.

3) Reversing Camera/Rear Guide Assist (RGA)/Back Guide Monitor is designed as a driver assist device only and should not be used as a substitute for skilled driving (and/or safe parking practices). The area into which the vehicle is to be driven must be visually monitored by the driver.

4) Digital radio station coverage dependent on vehicle location.

5) The Bluetooth® word mark is owned by Bluetooth SIG, Inc. Not all devices are compatible and functionality varies depending on the device.

6) Lexus Enform is available on certain vehicle models and grades only. Lexus Enform is free for the duration of your new car warranty. Enform services rely on data from the driver's compatible mobile phone and information provided by third parties. Availability is dependent on a number of factors, including the availability of third party information, mobile service, sufficient mobile data allowance and GPS satellite signal reception. Mobile usage is at the user's cost. Lexus Australia reserves the right to add, remove or modify applications. Further information is provided at www.lexus.com.au/enform.

7) Current navigation mapping database encompasses major capital and primary national road networks as well as offering some coverage in regional areas.

8) Clearance & / or Reversing Sonar / Driver Fatigue Monitor / Blind Spot Monitor (BSM) / Rear Cross Traffic Alert (RCTA) / Lane Departure Warning (LDW) / Lane Departure Warning+ (LDW+) / Lane Keep Assist (LKA) / Panoramic View Monitor (PVM) / Brake Assist are driver assist devices only and should not be used as a substitute for safe driving practices. The area into which the vehicle is driven must be visually monitored by the driver.

9) Automatic High Beam (AHB) / Adaptive High-beam System (AHS) / Hill-start Assist Control (HAC) are driver assist devices only and should not be used as a substitute for safe driving practices.

10) Only Qi-supported devices are compatible. Refer to your device manufacturer to determine your device's compatibility. Some devices may require the purchase of a Qi-supported accessory to enable wireless charging.

11) SUNA™ GPS Traffic Updates are only available in metropolitan Adelaide, Brisbane, Canberra, Gold Coast, Melbourne, Perth and Sydney; it operates from information provided by Intelematics Australia and may not cover all road incidents and congestion. See sunatraffic.com.au for details.

12) Not all devices will be compatible and functionality will vary depending on the device.

13) Multi-Terrain Monitor does not provide a comprehensive view of the area surrounding the vehicle, it is a driver assist device only and should not be used as a substitute for safe driving practices. Areas into which the vehicle is driven must be visually monitored.

14) Crawl Control [with Turn Assist] is a driver assist technology and should not be used as a substitute for safe driving practices. Areas into which the vehicle is driven must be visually monitored.

15) Towing capacity is subject to regulatory requirements, towbar and vehicle design and towing equipment limitations.

16) Self-restoring paint contains an outer coating with elastic qualities capable of restoring superficial scratches only.

17) Emissions vary depending on driving conditions / style, vehicle conditions and options / accessories.

18) Multi-Terrain Monitor does not provide a comprehensive view of the area surrounding the vehicle, it is a driver assist device only and should not be used as a substitute for safe driving practices. Areas into which the vehicle is driven must be visually monitored.

19) Pre-collision Safety System (PCS) is a driver assist feature only and not a substitute for safe driving practices. Driver remains responsible at all times for safe driving.

* Premium Paint featured is an optional extra at additional cost for all model lines (excluding LS 460 and LS 600h).

Lexus Australia reserves the right to vary and discontinue the current interior and exterior colours, trims and colour/trim/model combinations. Colours and trims displayed here are a guide only and may vary from actual colours due to printing/display process. See your Lexus dealer to confirm colour/trim/model availability when ordering your vehicle. Metallic / mica pearlescent paint is optional and subject to additional charges on most models.

IMPORTANT NOTICE - please read: Lexus Australia uses its best endeavours to ensure material is correct when published. Check with your authorised Lexus dealer when ordering to ensure the vehicle with your chosen specifications, equipment and colour is available and can be delivered within the timeframe suitable to you. When ordering accessories, check with your authorised Lexus dealer to ensure the accessory's design, features and colours are available and fit your vehicle. Consider the mass of your load will not exceed the maximum allowable individual axle capacity, Gross Vehicle Mass and/or Gross Combined Mass of the vehicle. Refer to lexus.com.au for further details. Colours displayed are a guide only and may vary from actual colours due to printing/display processes. Certain accessories when fitted will require the removal of standard equipment, which may be retained by Lexus Australia or your Lexus dealer. Lexus Australia reserves the right to change, without notice, prices, colours, materials, equipment, specifications and discontinue colours/models. To the extent permitted by law, Lexus Australia will not be liable for any damage, loss or expense incurred as a result of reliance on this material in any way.

Published by Lexus Australia ABN 64 009 686 097, 155 Bertie St, Port Melbourne 3207