LEXUS RX LIFTS CONNECTIVITY, SAFETY AND DYNAMICS
Building on the Lexus reputation for delivering benchmark quality, craftsmanship and premium appointments, the new RX will debut 10 new technologies as standard, and will be priced from $71,9201¹ - a reduction of $1,600.

The RX 300 Luxury now features (1) a 12.3-inch screen (up from 8.0 inches), (2) new touch-display and touchpad-type Lexus Remote Touch functionality, (3) Apple CarPlay®² and Android Auto™³ compatibility, and (4) an additional four USB ports (now six).

Standard Lexus Safety System+⁴ gains (5) night-time pedestrian and daytime cyclist detection for the pre-collision safety system and autonomous emergency braking. Its all-speed active cruise control is now linked with (6) new lane-trace assist and (7) road-sign assist functionality.

A new (8) parking support brake system uses intelligent clearance sonar and rear cross-traffic sensors to avoid or mitigate collisions that commonly occur during parking manoeuvres.

In addition to an audible warning, the system can reduce drive force and apply the brakes to reduce the possibility of contact with static objects in the direction of travel, or static objects and moving vehicles when reversing.

Lexus has also adopted (9) a hands-free kick sensor for the standard power-operated tailgate and (10) front cornering lamps.

These features have been standardised across RX 300, RX 350 and RX 450h variants each available in Luxury, F Sport and Sports Luxury grades, and the seven-seat RX 350L and RX 450hL variants available in Luxury and Sports Luxury grades.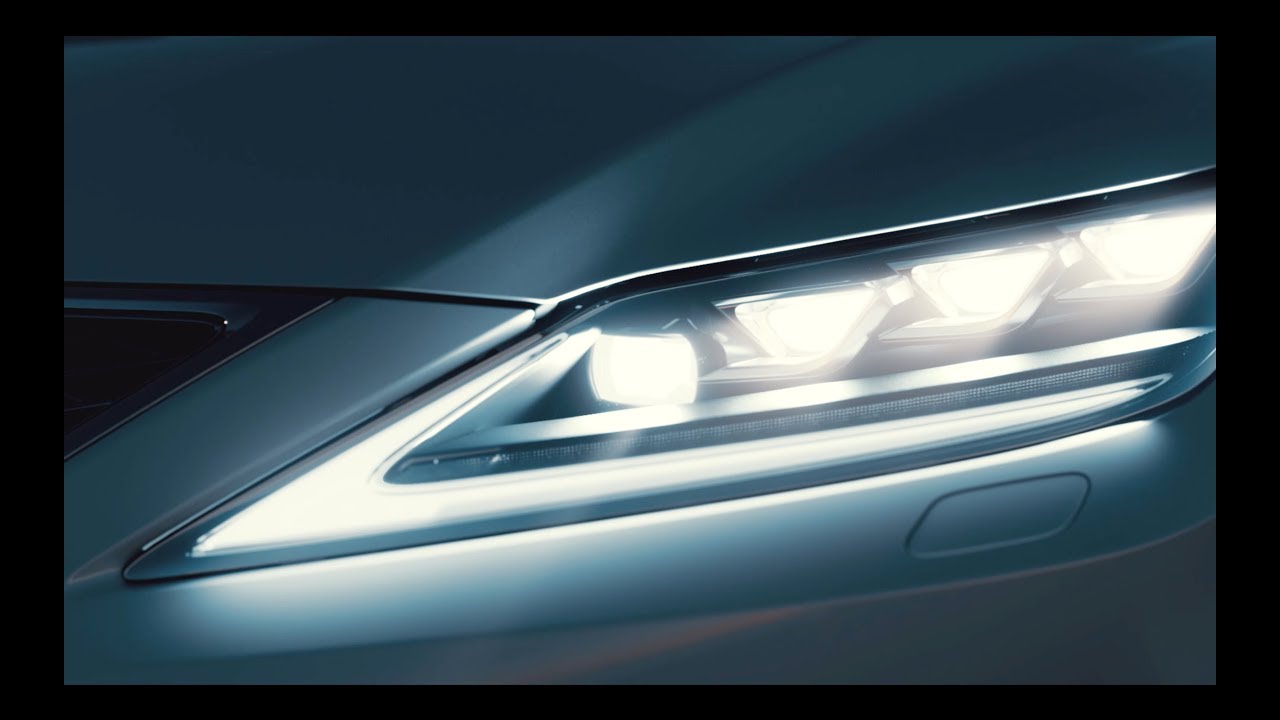 All F Sport and Sports Luxury grades of the new RX also debut (10) an LED adaptive high-beam system (AHS) with world-first blade-scan technology.

Compared with existing technology that points LED lamps towards the road, the new technology directs the lamps back towards a blade mirror rotating at 12,000rpm.

Blade-scan technology utilises the reflection of light off the mirror to increase high-beam brightness and expand its reach down the road. It also more finely controls light distribution to achieve the most precise "shading" to avoid dazzling other drivers.

Typical adaptive high-beam technology uses LED lamps directed at the road, which switch on and off as individual chips that can shade fixed portions of the road.

With blade-scan technology, LED lamps switch on and off in 50 microseconds while synchronising with the blade mirror, which spins on high rotation to deliver immediate response, reduce the width of the shaded area and provide a greater spread of illumination.

Illuminated and shaded areas are controlled in 0.1-degree increments (previously 1.0-degree), almost halving the width of the shaded area to just 3.5 metres at a distance of 50 metres (from 6.3 metres).

Compared with previous AHS on RX, blade-scan technology is more than 10 per cent brighter and it extends the high-beam reach to pedestrians situated in close proximity to shaded vehicles from 32 metres to 56 metres - a further 24 metres ahead.

In addition to allowing drivers to recognise pedestrians much earlier, brighter and more focused light distribution enables improved illumination of hard-to-see areas such as road shoulders and road signs.
1. Recommended retail price provided for general media release purposes only. Excludes dealer deliver and statutory charges. Optional extras at additional cost.
2. CarPlay® is a trademark of Apple, Inc. registered in the U.S. and other countries.
3. Android Auto™ is a trademark of Google LLC.
4. Driver assist feature. Only operates under certain conditions. Check your Owner's Manual for explanation of limitations. Please drive safely.